by Jim Hamm
There are those, some of whom are experienced hunters, who exclusively recommend a short bow for hunting. They maintain that a selfbow of 64 inches, or even less, is easier to use from a treestand or from a ground blind, a short bow lends itself to stalking, or a short bow is more stable or "shootable" under hunting conditions.
Years ago, Paul Comstock advocated making a bow as tall as the archer, or man-tall, and the more hunting seasons I see the more prudent his council becomes. Short bows are fine, and I've made and hunted with a number of them over many hunting seasons. But after decades of experience carrying a selfbow in the woods, I've come to prefer a 70-plus-inch weapon – in ground blinds for antelope, to stalking elk in heavy timber, in treestands for whitetails, to prospecting thick bottomlands for spring gobblers.
First of all, a bow of, say, 72 inches is not all that unwieldy compared to a 64-inch bow, that's just 4 inches more on each limb. It's just as easy to trim branches and detail a treestand or ground blind for a bow that's a bit longer. Even sitting flat on the ground the longer bow simply needs to be canted slightly more. And for negotiating thick cover, the bow is generally held horizontal and parallel with the line of travel, so a few inches more or less in length either way makes little practical difference.
And a long bow has several functional advantages over a shorter bow.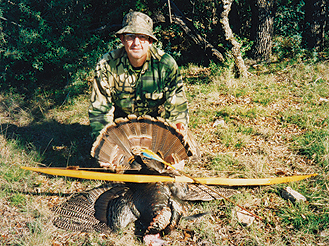 For most archers, the longer bow will be more consistently accurate. It has less stack, because the string angle at the tips remains low, giving greater leverage. In real-world terms, this means the weight gain per inch at the end of the draw does not markedly increase, which makes it far easier to get to the same solid anchor every time, from any shooting position. And a faithful anchor is the key to accuracy, yielding exactly the same sight picture, draw length, and draw weight time after time.
The longbow also seems more forgiving of shooting errors, torqueing the bow or plucking the string, to name just a couple. Most shooters find that even their misses are closer with a longer bow, which shrinks groups and increases accuracy. And, speaking for myself as a hunter, I need all of the help I can get when trying to launch an arrow at game while surfing an adrenaline tidal wave.
A longer bow shoots slightly faster – everything else being equal – because of the string angle issue already discussed, and because the limbs have to travel less distance for the same draw length. More speed without having to increase draw weight means more penetration and easier aiming at longer ranges because the arrow drops less, both of which are good things for a hunter.
There are a couple of tricks to optimizing a long bow's performance. It's advantageous, from a speed and handshock perspective, to make any bow's tips small, or with as little mass as possible. This is especially true on a longer bow. On a 74-inch osage bow I've used for a couple of hunting seasons, the tips are smaller than my little finger. Another trick is to slightly whip-tiller the longer bow, or tiller so most of the bend is in the outer portion of the limbs. This gives you, in effect, the limbs of a short bow connected by a longer handle section. You'll find such a bow to be butter-smooth on the draw and have only the mildest of bumps upon arrow release. And the speed will surprise you.
In addition, a longer bow is under less strain, so it is less prone to breakage. Reduced strain also means less speed-robbing string follow, a definite factor for a hunter who might leave a bow strung from daylight until after dark, or who hunts in damp or downright wet weather.
For beginners, a 70-plus-inch bow has a particular attraction. When bowyers first start, virtually all of them, myself included, made bows of lighter weight than intended. This is one reason, aside from their sterling character, that beginning bowyers are generally popular with children, who wind up with many of the lightweight bows. If the bow is designed really long in the beginning, if the need arises its weight can be easily raised by fashioning new nocks an inch or two from each end and cutting off the excess tip. The children may be disappointed but the budding bowyer is not.
Crafting selfbows is all about personal satisfaction, and experimenting with different designs is a big part of that. Make them your way, but don't discount a man-tall bow, particularly if you're a hunter. If you've never tried one, make a bow as long as you are tall and see if it doesn't become your favorite.