| | |
| --- | --- |
| | Left: Vendors and part of shooting range at the Tennessee Classic. |
Photos and article by Suzzane Edwards & Marie Luther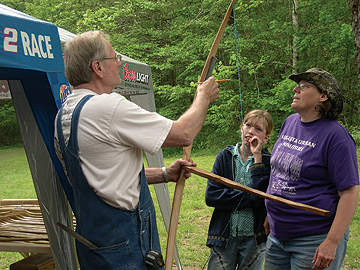 Gary Davis giving instruction to Grace (the daughter) and Marylou Rickard
In May of 2006, the Twin Oaks Bowhunters of Clarksville, Tenn., hosted their 9th Annual Tennessee Classic, and a classic event it was! This event is held on beautiful farmland property owned by Twin Oaks member, Mark Baggett, a.k.a. Pappy. The range is well manicured, the land is lush and best of all, the people could not be more accommodating or friendly.
Because Tennessee in May is so pleasant and the fact that the Twin Oaks Club is ranked as the finest archery facilities in the Southeast, bowyers young and old made the trek to Pappy's farm to set up camp and stay awhile. Some arrived as early as Tuesday and stayed as late as the following Monday. Twelve states were represented at this shoot.
Primitive Archer magazine had the privilege of covering this event. Many of our readers have seen pictures of "Pappy's" wood supply and workshop when surfing PA's open message boards. It has been the cause of many comments and much envy. But that is only the beginning of what one experiences when attending this event. When we arrived, we traveled down a shady path to the main shooting range and "the shop" area.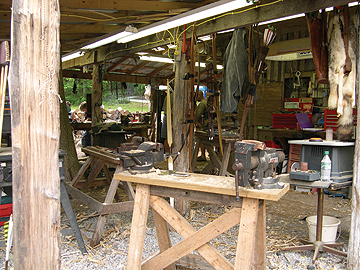 Twin Oaks Bowhunters workshop
The workshop was buzzing with activity. Archery enthusiasts, young and old, were crafting bows. Thirty nine participants started in the selfbow challenge with 31 finishing bows to shoot in the event. That is an amazing statistic. Some of the attendees included families enjoying time together, friends gathering to fellowship and share stories, and skilled bowmakers working on another bow for the upcoming hunting season. There were a couple of students from a Franklin, Tenn., private school who were researching a project about ancient archery and how it relates to Biblical times. In addition, we were also fortunate to be among some of our nation's finest Black Hawk fighters and soldiers stationed at nearby Fort Campbell, Ky. Men, women and children of all ages were working side by side on their staves and acquiring the skills and knowledge that goes into crafting their own bows.
This was the perfect opportunity to take advantage of the expertise that this event offers. Gary Davis, well known bowyer and author, was teaching techniques and tricks of this ancient craft. He guided many through the making of their bows. And, of course, many of the Twin Oaks members, who are very skilled, were manning the self-bow stations and assisting anyone who needed help in creating a bow from scratch. This year, the Twin Oaks team worked hard making sure there were enough raw staves ready to be worked by any enthusiastic bowyer. Every tool was available for use and everyone worked together to teach and to learn how to make bows.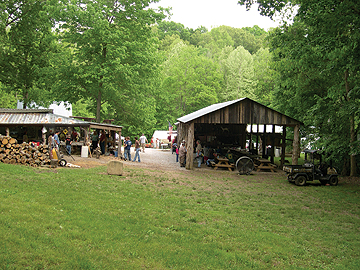 Workshop (left), Concession stand (right)
Behind the shop is a path, and along this path are 20 different 3D targets set up for shooting. The path moves from a cool shady area to an open field on a hill above the campgrounds. This is only one of the two 20-target courses for completion. Back at the archery range there was a 20-target practice range set up for all to shoot anytime and for as long as they wanted. On the left was the shooting range. The range consisted of an area with moving 3-D targets, which were a running deer and a bobbing bear for the novelties and a sectioned off area for the classic target shoot with bales. The bales were even lit up at night for late practice. Members were monitoring the range and making sure everyone had what they needed. Also in this area, we saw several vendors set up with their wares. Many of these vendors are loyal to this event and have been there since its inception. Twin Oaks doesn't charge for vendors, but the space is limited, so it is important to contact them early to reserve a spot.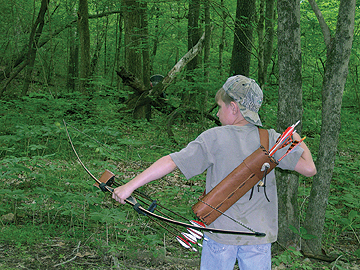 Hunter Collingworth (8 years old) trying his hand at the Tough Man shoot
We passed this area and walked down the road toward the camping area. We visited the event on Saturday, so as we walked down through the campgrounds, we could not only smell the woods, and the creek but also the campfires cooking for the big potluck dinner that night. The club supplied wild game and drinks for the dinner and many people brought their favorite camp dish to share even though it wasn't required. The aroma of the different dishes made our mouths water! Next to the shop, the club also had a concession stand that was open for meals and had plenty of seating. Anyone in the middle of working on their bow could take a break and grab a hamburger or hot dog before getting back to work.
The event's classifications included selfbow, longbow, and recurve for men and women. There were two classifications for young participants; a recurve for youths and a single class for cubs and pee-wees. They also offered a hunters class with no scoring. It is designed specifically for honing skills without the stress of formal competitions. The exciting specialty event was called Tough Man. In this event, there are five targets that are set in hard spots. Each target is shot from the same position. They had it situated next to the creek with the targets tucked up in vegetation just waiting for someone to take up this challenge.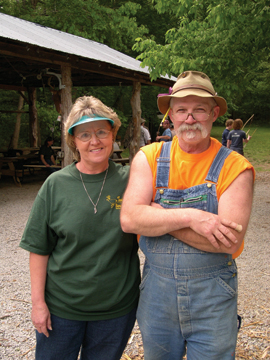 Hosts Mark and Joanie Baggett (a.k.a. Pappy)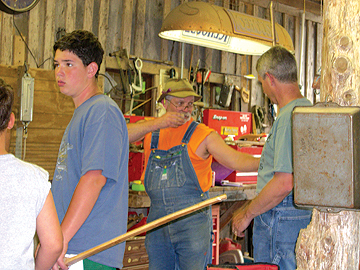 Pappy, always on call, giving his kind assistance
The Tennessee Classic is a unique event. It is set up for people of all skill levels to begin a bow, finish it and even compete with that bow all in one weekend. People from all over the country congregate here on this stunning property for a few days to connect with other bowyers, learn new skills, share some amazing stories and to compete in the different events. All of this taking place on a first class set up. If this all sounds like a piece of heaven to you, then the trip would be worth it! The Twin Oaks Bowhunters, who have 25 regular members and 3 associate members, work very hard preparing for this event and creating a warm family friendly atmosphere.
Primitive Archer would like to thank the Twin Oaks Bowhunters for inviting us to their event and for putting on such a class act. We would also like to encourage our readers to carve out time next May and head on to Tennessee. Bring your friends and family and prepare yourself for a memorable weekend.
When:
Next year's Tennessee Classic will be held May 1-6, 2007. The competitions will be held May 4-6.
Where:
Near Clarksville, Tennessee
Directions from Nashville:
Take I-24 west toward Clarksville, exit onto Maxey Road (exit 19). Turn left, go to the end of Maxey Road, and turn right onto 41-A (north). Go about 5 miles, turn left onto Oak Plains Road (look for Twin Oaks sign and Smith Auto Salvage sign), turn left onto Knox Road, turn right on Ashley Road. Watch for the Twin Oaks signs! (about 45 min)
Directions from Kentucky:
Take I-24 headed east. Take exit 19 and turn right. Follow previous directions from that point.
Costs:
$20.00 for each class or $45.00 for the Iron Man shoot (registering for all three).
Staves run $30.00 (Gary Davis sells his own separately) if you bring your own wood, then it is just the cost ($20.00) of registering for the selfbow challenge.
How to register:
Contact Mark Baggett (a.k.a. Pappy) so he can have a heads up on count.
931-362-3717
markbaggett@detdist.com
Pappy can also give you a better idea of what to bring and what to expect weatherwise. And, he says if you call and happen to get his sweet wife Joanie, she can pretty much answer any question you have and of course, she's wonderful!