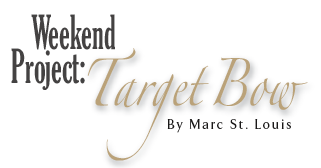 Carlos Rodriques from Western Montana asks:
Q: Hello Marc, beautiful bows you make. I have a Grozer Turkish bow and I would like to cover the sinew plate with a decorative backing of birch bark. My question is how to prepare the bark? If I buy birch bark sheet online, it will no doubt be dried and flat. I have a Korean bow and a Mongolian bow with faux birch bark. In both instances the bark grain runs with the length of the bow. Do you suggest running the grain parallel with the bow's length or can I have the grain running across the bow's length? Do I need to soak the bark to scrape it down? Or do I scrape it down to 1/32 or so dry? What is your preferred tool for scraping the bark? I imagine once the bark is scraped down it is quite pliable despite being dry. It must be dry to glue on to the bow, correct? What do you recommend for type of glue? How do you hold the bark to the bow until the glue sets? The bow has a sealant of some sort on the sinew plate. Will I have to prepare it? Should I use a lacquer over the bark?
A: I harvest my own birch bark and will only use bark from a large tree to back a bow. That way, I can lay the bark down in
one strip—from handle to tip—with the grain running along the length. I have seen bows with the grain of the bark running across the back of the bow, but I question the durability of this method. I have worked with birch bark a lot and it is definitely less pliable across the grain than along its length.
The bark we have here is composed of layers, which can be separated down to a thin layer fairly easily. Thin layers of bark are pretty flexible. I know that the Koreans soaked their birch bark in sea water for a year claiming it made the bark more flexible, but someone I know got some of this bark and he said that it was no more flexible than bark that was not soaked. If you get a piece of bark that is rolled up and dry, then you will have to soak it in hot water to make it pliable so that you can unroll it. If you get bark that is already separated into a thin layer, there will be no need tosoak it. Besides that, I work on the bark when it is dry.
I use modern glue, such as TB3, even on sinew-backed bows. You could use other types of glue though, such as liquid hide glue or fish glue. Both of these have preservatives that will prevent the glue from decomposing.
You will have to do something about the sealant; perhaps a light sanding to abrade the surface. I quite often have some strips of birch bark laying around in my shop for backing, but I don't think I have any at the moment otherwise I would offer to send you some. The only part of the bark I scrape is the inside and that is just to remove any cambium that may be stuck on it. I generally only use bark from dead trees. I use a sharp knife to scrape the inside of the bark. You don't want to scrape the outside of the bark, as that will make a mess of it. To thin the bark, I just carefully separate the layers until I get to the thickness I want.
You can use any type of sealant you want over the bark, but I prefer a natural sealant, such as Tung oil.
There's usually no need to hold the bark down. It's very thin when you apply it so the tack of the glue holds it down quite well. If I do run into a problem with a backing that doesn't want to stick by itself, I use short pieces of packing tape. I use these by drawing down over the bark and sticking the two ends together on the belly side. You do have to be careful taking the tape off.
Le Roux Oosthuizen from South Africa asks:
Q: I read your coloums in PA and then I read about you in the TBB4. Great stuff. I'll get right to the point. What dimensions
would you recommend for a bamboo- or hickory-backed rosewood bow? When making a hickory-backed ELB, how wide would you make a white oak bow of 40lbs, and rosewood? I want to make a heavy ELB for distance shooting. Which would work better—a hickory-backed ipe or rosewood or white oak bow? Heat-treated as well maybe? What wood would you rather use for making a hickorybacked warbow or longbow: white oak, rosewood, blackwood, balow, maple, beech?
A: The dimensions of the bow would depend on what style of bow you are making, your draw-length and what draw-weight you want to get out of your bow.
Personally I like rosewood, but white oak would work well, as would hard maple. Even though I have made a few beech bows, I don't think I would use it for a backed bow. I presume that you are talking about the African blackwood; it is an extremely dense and hard wood and it is also very oily. I've never used blackwood in a bow other than as overlays or handle accents. From its density and strength, I would say that you wouldn't need much wood to make a strong bow. I have never heard of balow so have no comments on this wood.
A hard-backed bow of 40# would not need much width. In white oak, I would make the bow no more than 1 1/8" wide and 1" wide in rosewood.
I would use the ipe for a heavy bow as my first choice, with rosewood as the second choice. You do not want to heat-treat either one of these wood choices as they do not react well to high heat. The white oak could be heat-treated though.
Josh Robinson from Florida asks:
Q: I have a question dealing with bending recurves in a hickory Grumley-style recurve. The wood I am using is a hickory kiln dried board and is at about 9% mc. I am wondering whether I should use steam to bend the seven-inch curves or dry heat by weighting one end while the other side is clamped in the form. I am planning on about a sixty-degree bend or a little less, and I will glue on belly reinforcements to form the brush nocks.
A: If you use dry heat, the wood is sure to fail. You will need to use steam and, in addition, you will need to support the belly with a strap. Your best bet is to get the belly side of the recurve down to one growth ring and round the edges so you don't have a sharp edge; a sharp edge here can quite often succumb to a splinter lifting. Sand the edges on the belly side of limb that is going to be bent with medium grit sandpaper, making sure it is smooth and uniform. You only need to do this where the recurve is going to be bent. Then clamp a thin metal strap along the belly so that it will give some support to the wood as it is being bent. All of these steps will go a long way to holding any splinters down. Make sure that you are well prepared and rehearsed beforehand because once you take the wood from the steam, you will need to bend the recurve without hesitation. Steam the wood for at least 15 minutes for every ¼" of wood thickness.
Send your questions to:Marc St. Louis
P.O. Box 1132 • Mattawa,
ON • Canada P0H1V0
Or email: Marc@IronwoodBowyer.com
You can also reach me on the
Primitive Archer Message Board at:
http://www.primitivearcher.com/smf/index.php